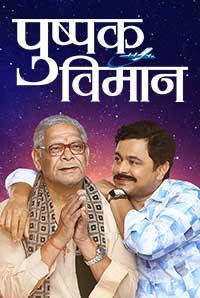 Release Date: 03 August, 2018
Star Cast:Mohan joshi, Subodh bhave,
Synopsis
Get detailed information about movie – it's release date, star cast, songs, director, producer, music, best scenes, box office collection, running time, budget, reviews, ratings, poster, wallpaper, trailer, showtimes, tickets.
An 83-year-old man, Tatya, an ardent devotee of Saint Tukaram firmly believes the age-old folklore, which says that the saint boarded the Pushpak Vimaan and set off to heaven, to be true. He also harbors the dream of flying in Tukaram's mystical vehicle. The movie, with a touch of humor, showcases the emotions shared between a grandfather and a grandson.